Throwing a heavy and thick battle rope in the gym does something more than just looking impressive. Training with these ropes is a ruthlessly, effective, and beneficial workout. These ropes are no new when it comes to strengthening the muscles. They are fast making their way towards mainstream exercising, and this means it is time for you to add them to your health and fitness routine.
They offer complete body strength and cardio training. These are especially beneficial for targeting the upper and core body as these are the main movers in training with these ropes. They are highly beneficial for people who are looking to gain muscles without going for extra-heavy weights.
This workout accessory will be your perfect partner in helping you accomplish your fitness and health goals. Made of Poly Dacron material, this rope will help you with core strength and upper body training. These are the times of evolution where everything is going through some change. The same is found in the fitness category, as well. Now, there are battle ropes available for workout enthusiasts to keep their muscles toned. This will be the right accessory for you if you are looking to increase endurance on the back, arms, and shoulders.
Additionally, the rope also helps in strengthening the foot and handgrip. It helps in building stance, overall strength, and stamina. This non-conventional fitness accessory has grabbed immense popularity among fitness geeks. It is ubiquitous in circuit training venues, cross-fit gym, and fitness centers. These training ropes can even be found in martial arts and boxing gyms.
Multi-Functional Battle Rope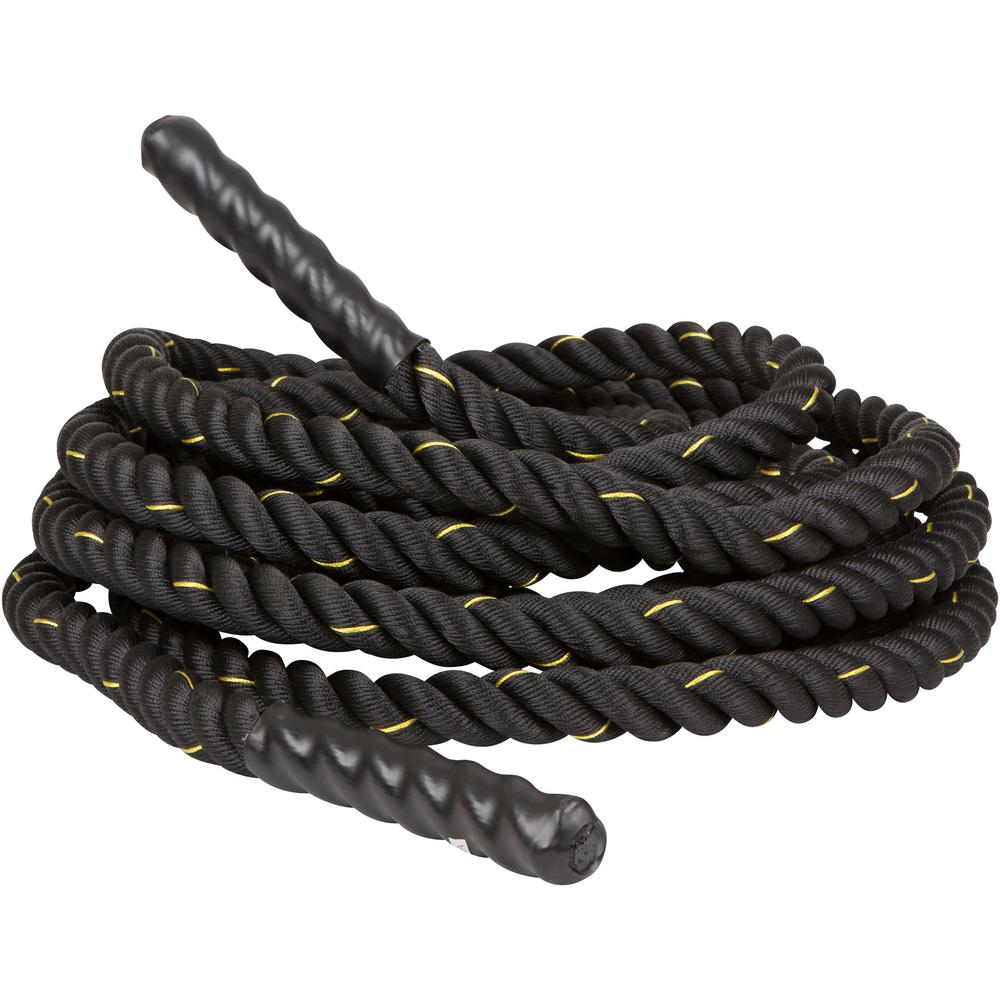 Available in a length of 12 to 15 meters, this is a highly durable rope that can be carried to almost any place very easily. It is perfect for both indoor and outdoor workout sessions. This heavy-duty and strong rope is ideal for long training sessions for athletes and sports individuals. The reason behind its untamed popularity is the benefits it has on offer for its users. It offers you the scope of indulging in explosive body movement without worrying about any damages caused to your body and the joints.
This rope is the perfect blend of aerobic and strength training and is quite useful for the holistic growth of the body. Swimmers, volleyball players, basketball players, and tennis players can make the best use of this rope for staying in perfect shape. Even UFC fighters and boxers can use it for strength training. The rope is not just useful for training up the body physically but will also give you the resilience needed for climbing rope, tug of war, and power rope fighting.
The Work Procedure
The rope works by creating tension and forces from the angles that seem to be very difficult to achieve with basic weight training. Use these ropes for confusing and surprising your muscles and other parts of the body into making some significant gains. These will not only make your workout sessions more effective but productive as well.